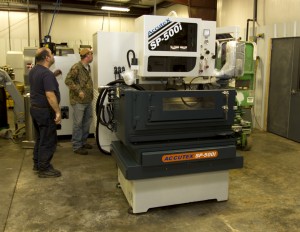 Last week, we took delivery on a brand new Accutex SP-500i wire EDM machine. Previously, we had to send out tool parts that had a center cut. This slowed down our production and made it harder to meet the demand for Industrial Bolting Technologies tools. Now, we can cut these parts our tools ourselves, increasing our reliability and delivery times, while reducing our costs. 
What Is A Wire EDM Machine?
Electrical Discharge Machining, also called EDM machining, is a process for working with electrically conductive metals for which traditional machining techniques are ineffective. Wire EDM machines use an electro thermal production process involving a thin, single-strand metal wire and de-ionized water. This process makes it possible to easily machine parts and precision components from hard conductive metals.
How Do Wire EDM Machines Work?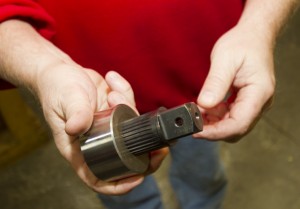 With a Wire EDM machine, a thin wire (typically brass) is moved by computer control close to the part being machined. The wire and piece being worked on are either fully submerged in the de-ionized water or the piece is flushed with the water vigorously. A spark between the wire and the work piece disintegrates the steel using the controlled electrical charge many thousands of times per second. The process is highly accurate and is ideal for complex, intricate work.