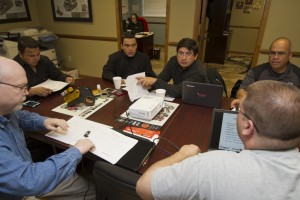 Gabriel G. Rodriguez, Latin America Sales Manager, and his team from TorsionX SurAmerica, were in town this week going over every detail of the TorsionX tool line so they are prepared for the launch of the new company in late-April. TorsionX SurAmerica will be distributing TorsionX tools throughout Central and South America.
Mike McCown, president of TorsionX, and Gabriel G. Rodriguez were excited about the opportunity to work together and have full-time, active distribution promoting TorsionX in Latin America.
"There are a variety of industries in Latin America that will benefit from the high quality bolting products that TorsionX offers. The oil and gas industry of Brazil is a good example of where we expect to sell a many tools from the TorsionX product line," Rodriguez said.
Throughout TorsionX SurAmerica's visit, TorsionX staff members worked with them so they understood the specifications and features of every piece of equipment. They also bonded during out of office events and evening activities.
"It is important that we communicate and work together. We've spent a great week together and become friends. That is the key to doing business, especially when you can't see each other on daily basis. We trust each other and I know the team at TorsionX SurAmerica will provide the same excellent service to our customers in Central and South America as we do here," McCown said.